The landmark enclave of Haro cements its position as a place to visit at Christmas time too, as for the third consecutive year it is contributing to the seasonal atmosphere and offering a wine and tapas route for the month of December.
After the great success of the previous two years, the wine cellars of the Barrio de la Estación join forces again this Christmas and adorn the streets, façades and patios to turn the quarter into a unique destination where you can enjoy the best Rioja wine in the company of family and friends during these special, festive days.
The illumination of the outstanding buildings and seasonal music will help to create a common thread which will accompany visitors on their path between the various wine bars with extended hours, opening their arms to welcome all those people, from far and wide, as well as the locals, who visit them over this period.
The switching-on ceremony, which this year will include a sweet surprise for all those who come, is scheduled for Friday 1 December at 6 pm at the stone arch located opposite CVNE. The participating bodegas will light up the Barrio de la Estación giving way to the wine and tapas routes which will take place between 18:00 and 20:30 on the 1, 2, 5, 6, 7, 8, 9, 15 and 16 December. As in the 2022 edition, for each glass of wine with a price of over 4€ purchased in one of the wine bars, a free tapa will be served.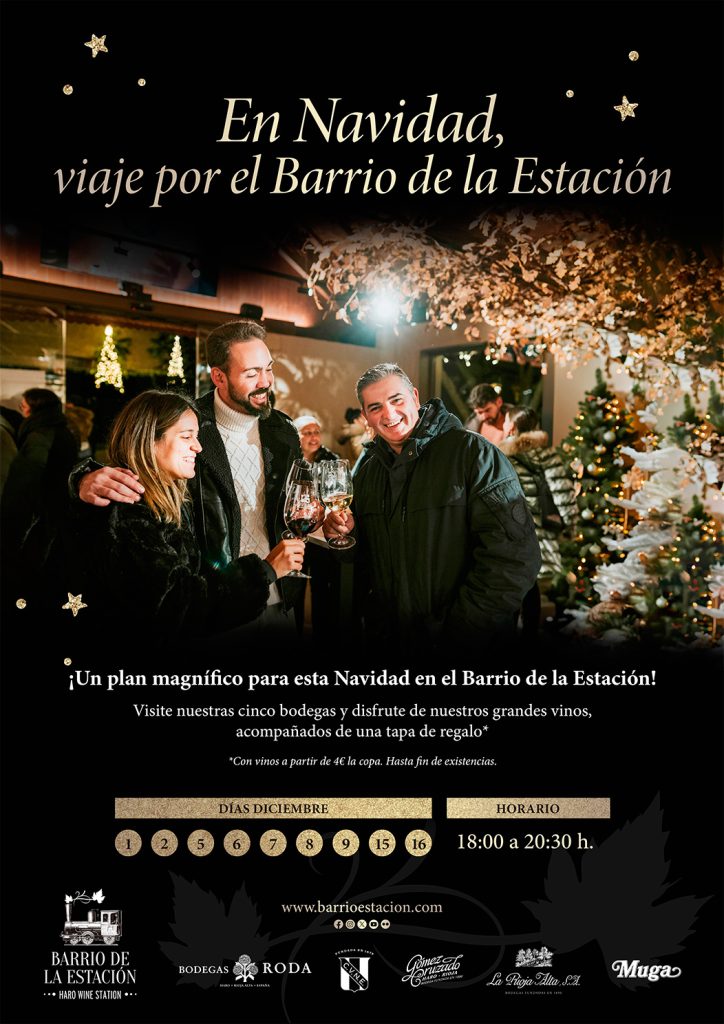 With the forthcoming 2024 edition of the Cata del Barrio de la Estación tasting event in mind, the wine cellars remind you that tickets are already on sale and that the cut-price offer of 100€ ends on 31 December. What's more, from 20 November to 20 December, they can be purchased together with a "Gift Card" so as to give the experience as the best Christmas present of the year.
This Christmas, the Barrio is also running a competition with a very attractive prize. The best image shared via Instagram, mentioning the Barrio de la Estación account (@barriodelaestacion), will win two tickets for the V Edition of the Cata del Barrio de la Estación.
The Barrio de la Estación seeks to be a lively destination all the year round, creating experiences to be circled in red on its visitors' calendars. A meeting place, a unique destination to return to time and again. And of course, also this Christmas, which promises to be a very special time in the Barrio de la Estación.