The countdown has begun. Less than two months are left to enjoy a unique experience: La Cata del Barrio de la Estación in Haro.  This third edition, to be held on 16 June, will not only be remembered for the extraordinary selection of wines made by the seven houses organising the best wine experience in Spain. The gastronomic chapter will also be the undoubted protagonist of this great event thanks to the commitment of the wineries to harmonise their wines with the best cuisine of La Rioja. El Portal del Echaurren and Venta Moncalvillo, with two and one Michelin star respectively, have been the restaurants specially chosen this year to take part in the event with exclusive creations that harmonise perfectly with the fourteen internationally renowned wines served by the seven wineries in the Barrio de la Estación. Francis Paniego, chef at El Portal del Echaurren, will contribute three succulent dishes and Ignacio Echapresto, at the helm of the cookers at Venta Moncalvillo, another four delicacies. A total of seven gastronomic creations that will represent Rioja haute cuisine and which, tested by the wineries themselves, combine perfectly with the extraordinary wines that will be available for tasting during the day.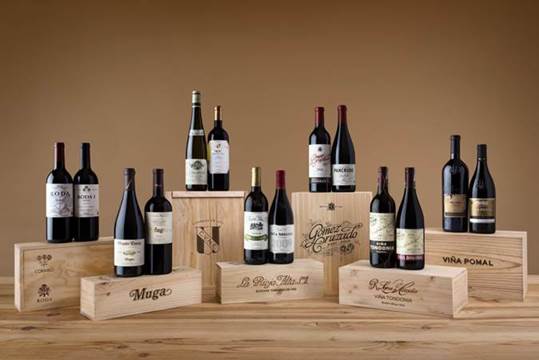 Selection of dishes and wines for the 2018 edition of La Cata del Barrio de la Estación:
El Portal del Echaurren.
Echaurren's Croquettes of ham and chicken, soft and creamy, with Viña Tondonia Tinto Reserva 2005 and Viña Tondonia Tinto Reserva 2006.
Toasted Brioche of pork ribs with honey sauce, Riojan joy and pickled aubergines with Gran Reserva 904 2009 and Viña Ardanza 2009.
Stewed veal snouts as "the boss" taught us with RODA 2013 and RODA I 2010.
Venta Moncalvillo.
Migas del pastor with Rioja sausages, grapes and egg yolk with Monopole Clásico 2015 and Imperial Reserva 2014.
Pocha beans with fried vegetables and chilli in oil with Honorable 2014 and Pancrudo 2016.
Cod confit with Rioja sauce with Viña Pomal Compromiso 2015 and Viña Pomal Gran Reserva 2011.
Cut of oxtail in red wine over a potato cream and its own sauce with Muga Reserva Selección Especial 2012 and Prado Enea Gran Reserva 2004.
Both Francis Paniego, who will prepare the tapas at El Portal del Echaurren, and Ignacio and Carlos Echapresto, in charge of the dishes at Venta Moncalvillo, are National Gastronomy Award winners in their respective categories. Francis Paniego and Ignacio Echapresto have this distinction in the category of chefs, while Carlos Echapresto holds it as sommelier.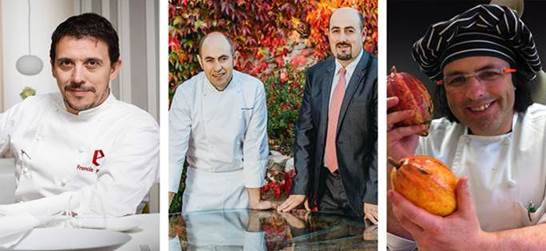 Paniego makes no secret of his excitement at taking part in the most gastronomic edition of La Cata del Barrio de la Estación and for the occasion he has come up with two "informal dishes that don't deny an exciting touch of roguishness". Of course, his mother Marisa's famous croquettes, an easy-to-eat snack that has been dazzling palates for years, not only at his home in Ezcaray, but also at hundreds of gastronomic events around the world, could not be missing from this event. Francis Paniego sees his participation "as a challenge" and adds that he is "happy to take part in a beautiful experience and a celebration that the world of wine needs to bring it closer to a younger segment".
Ignacio Echapresto has chosen to present "recipes that pay tribute to the culinary tradition of La Rioja, rescuing flavours from our family history". Carlos Echapresto also had a hand in his choice, as he is one of the most knowledgeable sommeliers in the region. According to the Rioja native, "we have focused on a combination of products and flavours that harmonise perfectly with the wines that will be tasted during the event". In unison, both brothers declare: "We want those attending La Cata del Barrio de la Estación to end their experience saying 'How good it is to drink and eat in La Rioja'".
In addition, as there is no bite to eat without a sweet ending, master pastry chef Juan Ángel Rodrigálvarez, winner of the 2010 National Gastronomy Award for Best Pastry Chef, will round off the brilliant gastronomic chapter with his Maraví de Chocolate (Chocolate Maraví). A dessert that combines the intensity of cocoa with the sweetness of almonds, the smoothness of AUBOCASSA extra virgin olive oil from the Pla de Mallorca, 100% arbequina, and a touch of salt flakes. A dessert that owes its name to a cocoa plantation in the Ecuadorian region of Guayaquil and which, in the words of its creator, "is a nod to the oenological world, which usually names its wines after the plots of land from which the grapes come". The Riojan confectioner considers that taking part in this gastronomic edition is "a unique occasion and, furthermore, being able to do it together with colleagues and friends like Francis, Carlos and Ignacio. It will mark a before and after, I have no doubt".
The price to enjoy this great festive day of Rioja wine and cuisine will be €100, although the organising wineries –López de Heredia Viña Tondonia, CVNE, Gómez Cruzado, La Rioja Alta, S.A., Viña Pomal Bodegas Bilbaínas, Bodegas Muga and Bodegas RODA– have arranged a limited number of tickets at a special advance sale price of €80. Tickets can be purchased through the official website www.lacatadelbarriodelaestacion.com, where you can also book bus and train tickets to travel from the main cities in the surrounding area and Madrid.
Tickets include the tasting of the fourteen top-of-the-range, internationally renowned wines and the seven dishes and dessert proposed by the guest chefs. In addition, each visitor will receive a Riedel glass specially selected to ensure that each wine expresses all its characteristics and personality. Riedel is an Austrian firm specialising in oenological glassware, one of the benchmark brands for enjoying wine in the best conditions. Undoubtedly, La Cata del Barrio de la Estación guarantees all those attending an unforgettable experience in which they will be able to enjoy great wines together with the most award-winning Riojan cuisine and, in addition, live music as well as an extensive programme of cultural and oenological activities.