The seven organising wineries present their magnificent selection of fourteen wines that will thrill those attending the great wine event to be held in Haro on 16 June.
The wines will be tasted in a Riedel glass specially tested by the technical directors of the wineries to enjoy all the aromas and flavours of the wines at La Cata del Barrio de la Estación.
Two of the best restaurants in La Rioja according to the Michelin guide, El Portal del Echaurren and Venta Moncalvillo, will offer seven tapas prepared for the occasion by chefs Francis Paniego and Ignacio Echapresto.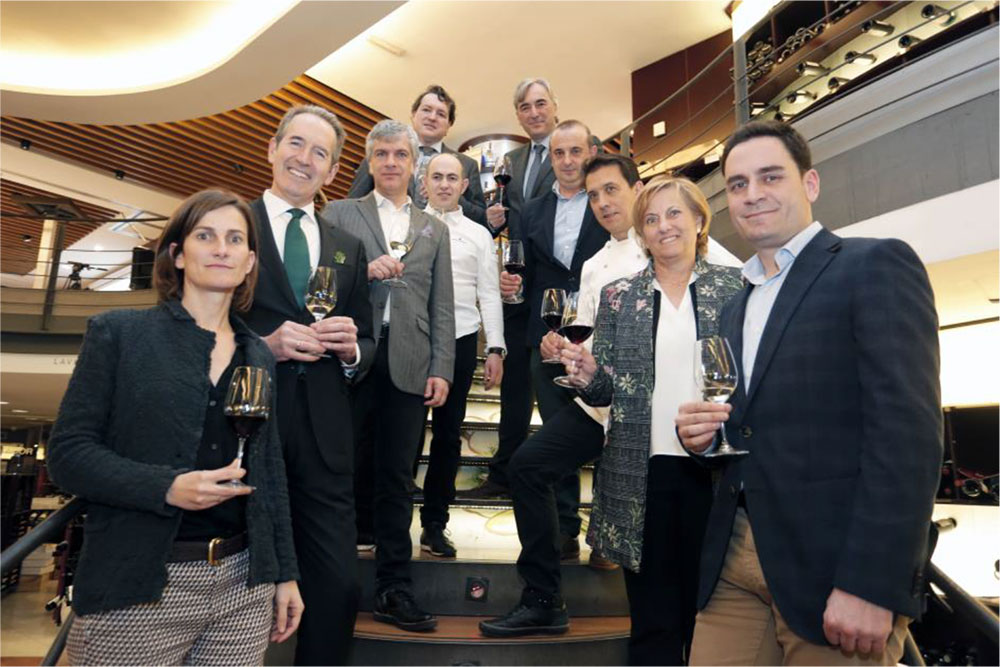 The Haro Station District Tasting will celebrate its most exclusive and gourmet edition on 16 June. A world-class event that will highlight the importance of this unique enclave in the history of Spanish wine with the wineries López de Heredia Viña Tondonia, CVNE, Gómez Cruzado, La Rioja Alta, S.A., Viña Pomal Bodegas Bilbaínas, Bodegas Muga and Bodegas RODA as the protagonists of a day that has become an essential part of the wine and wine tourism agenda in our country.
Leonor González, Regional Minister for Economic Development and Innovation of the Government of La Rioja, highlighted the innovative nature of the Barrio de la Estación since its beginnings. "What gives meaning to the Barrio is its winemaking station and its wineries: they are creative, innovative and take care of their landscapes with incunabula vineyards that give value to the land".
Thus, the seven houses that make up this emblematic neighbourhood will serve two of their best wines in their facilities, among which we find novelties, vintages still unpublished on the market and consolidated labels recognised by wine lovers from all over the world. Thus, the wines specially selected for this 2018 edition of La Cata del Barrio de la Estación are:
López de Heredia-Viña Tondonia
Viña Tondonia Tinto Reserva 2005
Viña Bosconia Tinto Reserva 2006
CVNE
Monopole Clásico 2015
Imperial Reserva 2014
Gómez Cruzado
Honorable 2014
Pancrudo Selección Terroir 2016
La Rioja Alta, S.A.
Gran Reserva 904 de 2009
Viña Ardanza 2009
Bodegas Bilbaínas Viña Pomal
Viña Pomal Gran Reserva 2011
Viña Pomal Compromiso 2015
Bodegas Muga
Muga Reserva Selección Especial 2012
Prado Enea Gran Reserva 2004
Bodegas RODA
RODA 2013
RODA I 2010
As a novelty, these fourteen Premium wines will be tasted accompanied by gourmet tapas prepared by Michelin-starred chefs Francis Paniego (El Portal de Echaurren, Ezcaray, two stars) and the Echapresto brothers (Venta Moncalvillo, Daroca de Rioja, one star). Together they will offer a sample of their renowned gastronomic innovation, harmonising the product, tradition and creativity of the best Rioja gastronomy.
In addition, each visitor will receive a Riedel glass specially selected and tested by the technical teams of each winery, capable of expressing the wines with maximum clarity. Riedel, an Austrian firm specialising in oenological glassware, is the brand par excellence for tasting wine in the best conditions and this glass will bring out the best virtues of the great vintages and labels that will be served during La Cata del Barrio de la Estación.
The wineries are also preparing recreational activities to enjoy during the visits to the centenary facilities and, throughout the celebration, there will be live music. On 16 June, the Haro Station will undoubtedly become a continuous party with wine and its culture as the main protagonists. Tickets for this exclusive event can now be purchased on the official website, www.lacatadelbarriodelaestacion.com, at a special early bird price of €80 (€100 later).
The event is an irresistible meeting for lovers of wine, tourism and gourmet gastronomy, with the chance to discover and enjoy wine in unique places, visit centuries-old wine cellars along the Ebro, enter the silence of the barrel rooms where some of the best Rioja wines rest or marvel at the perfect harmony between modernist architecture and the avant-garde conceived by Zaha Hadid. A day considered by wine critics to be the best wine event in the country, which has been awarded several times by different organisations for its unquestionable wine tourism quality.
The organisers are working on scheduling several buses and shuttle trains to facilitate travel from the nearest capitals and towns, which will be announced accordingly. For those who want to enjoy a full weekend of tourism in Haro, both the city of Haro and the rest of the autonomous community of La Rioja have a wide range of accommodation options, which are also listed on the event's website.
For more information:
Press kit: https://we.tl/6WKerKKDg3
Official web: www.lacatadelbarriodelaestacion.com
Facebook: LaCataDelBarrioDeLaEstacion
Twitter: @CataBarrioEst
Instagram: @catabarrioest
YouTube: @LaCataDelBarrioDeLaEstacion
#CataEstación18