The third edition of La Cata del Barrio de la Estación, the most exclusive and gourmet, closes its doors after a successful first day. On a sunny and festive day in Haro, around 3,500 people -between final public and press- have enjoyed a journey through the wine history of Spain where the best Rioja wines, perfectly accompanied by the most outstanding local gastronomy, have been the great protagonists of an unforgettable experience.
"Wine and its culture have triumphed today, driven by the living movement that is the Barrio de la Estación in Haro," said Agustín Santolaya, rotating president of the Barrio de la Estación Association and General Manager of Bodegas RODA. "It has been wonderful to feel how the public has enjoyed soaking in a magical environment full of festivity and joy.
The great Riojan cuisine, interpreted by authentic artists such as Francis Paniego, Carlos Echapresto and Juan Ángel Rodrigálvarez, has accompanied to perfection the 14 enormous wines that we have tasted".
Throughout the day, the seven host wineries –López de Heredia Viña Tondonia, CVNE, Gómez Cruzado, La Rioja Alta, S.A., Viña Pomal Bodegas Bilbaínas, Bodegas Muga and Bodegas RODA– have offered a careful selection of fourteen references of international prestige that have been tasted in a glass specially selected for this special day and that the attendees have taken as a souvenir. Wines that have been perfectly matched with seven dishes of the best local gastronomy, prepared for the occasion by the Michelin Star Rioja chefs Francis Paniego -El Portal del Echaurren- and the Echapresto brothers -Venta Moncalvillo-.
Creations that have fused the renowned traditional and innovative cuisine of La Rioja in a proposal that has delighted fans: "Las Croquetas del Echaurren de jamón y pollo" with Viña Tondonia Tinto Reserva 2005 and Viña Bosconia Tinto Reserva 2006 by López de Heredia Viña Tondonia, "Brioche tostado de costilla de cerdo con salsa de miel, alegría riojana y berenjenas encurtidas" with Viña Ardanza 2009 and Gran Reserva 904 de 2009 by La Rioja Alta, S.A., "Cut of tail in red wine over a potato cream and its own sauce" with Muga Reserva Selección Especial 2012 and Prado Enea Gran Reserva 2004 from Bodegas Muga, "Migas del pastor with Rioja sausages, grapes and egg yolk" with Monopole Clásico 2015 and Imperial Reserva 2014 from CVNE, "Alubias pochas con sofrito de verduras y guindilla en aceite" with Honorable 2014 and Pancrudo 2016 by Gómez Cruzado, "Bacalao confitado con salsa riojana" with Viña Pomal Compromiso 2015 and Viña Pomal Gran Reserva 2011 by Viña Pomal Bodegas Bilbaínas and "Morros de ternera guisada como nos enseñó 'la jefa'" with RODA I 2010 and RODA 2013 by Bodegas RODA.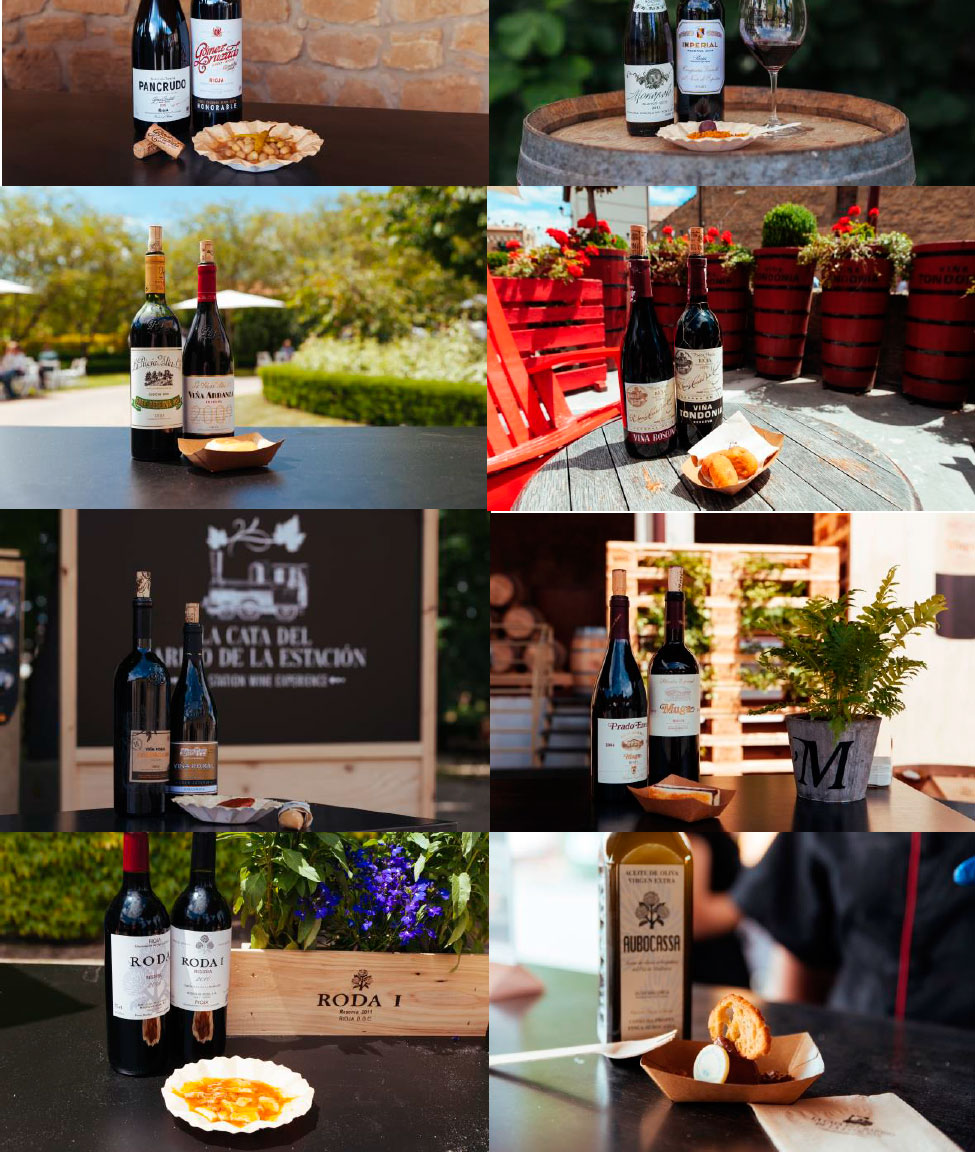 "After months of preparation, it has been very gratifying to see all the attendees enjoy each of the harmonies presented. It is our duty to show the public the great gastronomic potential of La Rioja, unbeatable when it goes hand in hand with the wines of the Barrio de la Estación, and events like this are the perfect opportunity to do so," said Ignacio Echapresto, chef at Venta Moncalvillo. "It has been an honour for us to participate in this ambitious project and to contribute to the positioning of our region among the best in the world", added Paniego.
In addition, master pastry chef Juan Ángel Rodrigálvarez, winner of the 2010 National Gastronomy Award for Best Pastry Chef, added the final sweet touch with his Maraví de Chocolate. "Being part of the line-up of La Cata del Barrio de la Estación with a dessert like this has been a great opportunity. Events like La Cata del Barrio de la Estación are a sure bet to show the world the quality of our products and the know-how of the region", he points out.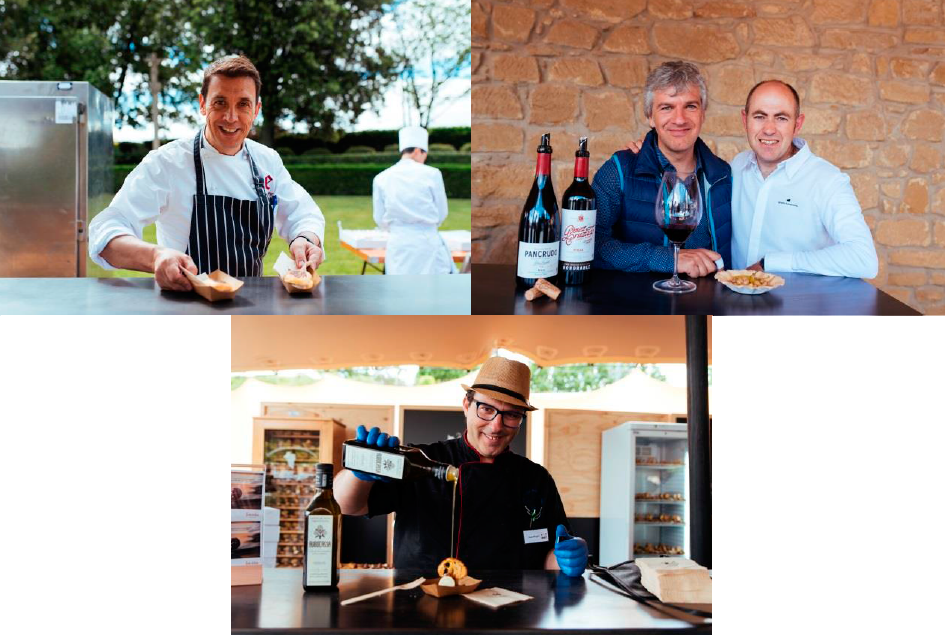 To reinforce a great recreational atmosphere, the seven organising wineries have offered musical performances in the streets of the Barrio and various cultural and oenological proposals with the added aim of educating participants in the art and culture of winemaking. Highlights included "Cava disgorging" at Viña Pomal Bodegas Bilbaínas, "Aromas de Imperial" at CVNE, "Cooperage, cask taming and barrel making" at Bodegas Muga, "Artistic intervention 'Illustration dialogues with wine'" at Bodegas Gómez Cruzado, "Artisan racking" at La Rioja Alta, S.A., "Two architects: Juan Cabrera Latorre and Zaha Hadid" at López de Heredia Viña Tondonia and the "Projection: "We bring to each bottle the reflection of our landscape"" at Bodegas RODA.

Thanks to this successful third edition, La Cata del Barrio de la Estación has once again established itself as the star event of Spanish wine, as corroborated by the great media coverage achieved thanks to the hundred or so accredited national journalists.
A festival that will continue on Monday 18 June with the day for professionals, which will bring together more than 800 people in Haro, including journalists, sommeliers, Master of Wine, wine and food critics, hotel and catering professionals, as well as opinion leaders and international press from eleven countries. An event in which the prestigious MW Sarah Jane Evans will act as 'Winemaker of the Year' 2018, giving an unprecedented and eagerly awaited master tasting. A luxury closing to the height of a Barrio that will soon begin to prepare the next edition of its great festival.